Who Is Harmon Publishing?

Harmon Homes: The Nation's Leading Real Estate Magazine. Harmon Publishing is based in Dallas, Texas and is a division of United Advertising Publications, Inc. Our nationally recognized name and focused emphasis on quality distribution ensures your customers get results. Harmon Publishing was established in 1987 and has been producing and distributing free circulation publications ever since.
In addition to a portfolio of more than 140 real estate periodicals, Harmon also publishes a growing range of custom publications on behalf of leading real estate firms and local REALTOR® boards. A full supporter of the real estate industry, Harmon serves as a "one-stop" marketing service provider for REALTORS® across the country.
Strength and Stability Built on Years of Experience...

United Advertising Publications, Inc. is ranked one of the nation's top 100 media companies. Now the nation's largest and fastest growing publisher of advertising periodicals, UAP has an extensive portfolio of periodicals for niche markets, including the popular For Rent apartment magazine and Harmon Autos.

UAP is backed by the resources of its parent company, United News and Media, plc., a broadly-based international publications, exhibitions and media group operating in the U.S., Europe and Asia. United News and Media, plc. is one of the world's largest multimedia companies and is considered a global leader in publishing, broadcasting, satellite and cable television services.

The Harmon Advantage

Advertising your listings with Harmon is one of the most cost-effective ways to gain exposure and results for your clients. Harmon offers several distinct advantages you won't find with other traditional advertising mediums or other real estate publications.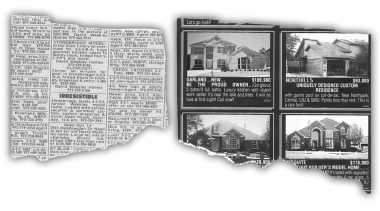 Best value

Advertising in Harmon magazines costs just a fraction of what newspapers charge and makes it possible for you to advertise more listings, satisfy more sellers and generate more quality sales leads. It also reaches a more targeted audience, since Harmon magazines are read only by those interested in real estate, so you're not wasting a large portion of your ad dollars.

In fact, the Newspaper Advertising Bureau (NAB) reports that the real estate section is the least-read section of the daily newspaper. That means that most of the dollars spent on newspaper advertising are wasted by reaching thousands of people not interested in real estate. A recent Harmon readership study found that consumers actually prefer Harmon 7 to 1 over newspaper advertising.

Superior distribution

No other free circulation publication has a targeted, nationally recognized, centrally managed distribution system that compares to Harmon's. Much of Harmon's distribution is handled by ADC, Advanced Distributing Company, the nation's leading distributor of free circulation publications. ADC secures high impact distribution in major grocery and retail store chains and bright red street boxes located in most metro areas from coast to coast. In some areas, we use other distribution vendors to enhance our coverage.

Major Broker Services
Promote your listings and enhance your image and visibility to potential buyers, sellers and new sales associates through your own branded magazine.
Image-building layouts
All Harmon ads feature large, image-building banner logos for each advertiser, plus sizable photos and descriptions of each listing. The absence of clutter found in most newspaper classified sections gives Harmon titles a more sophisticated look.

Full-color, high gloss magazine covers attract home buyers and sellers to pick up the magazine. Colorful, glossy covers offer the opportunity to showcase important properties in full color at an affordable price. Plus, Harmon magazines are kept around longer and passed along more often than the newspaper, which is generally discarded after it is read.

Sample display ads built by designers here
| | | | |
| --- | --- | --- | --- |
| Display page | Listing page | Display page | Listing page |
Professionally designed marketing materials
Our team of marketing professionals can help you improve your ads or design new ones. We've worked with advertising designers to build ads specifically for you to promote yourself and enhance your image. Our state-of-the art graphic centers throughout the country cater to the specialized needs of the real estate agents they serve.
National exposure and relocation leads
Our coast-to-coast network of magazines reach over 15 million people interested in real estate each month. People moving to a new community can simply call our relocation number to order a copy of Harmon Homes in that area. The 900-number and our Internet address are both featured on the front cover of our magazines which produce calls or visitors to our site from people who are truly interested in relocating. These qualified leads are distributed to our advertisers at no extra cost.
Plus, your ads can appear in our online Home Search, giving you national and international exposure to Internet users worldwide.
Training and education programs
Harmon offers a variety of training programs and seminars to help you improve your business or educate and motivate your sales staff. We can also work with you to create a custom program which meets the specific needs of your office. Some of the topics include Effective Ad Writing, Planning Your Personal Marketing Strategy, Self-Promotion, Improving Display Ads, Successful Farming Strategies and more.
Support for the real estate community

Harmon is committed to meeting the needs of the real estate community and supporting the NATIONAL ASSOCIATION OF REALTORS® as well as local associations. All of the content in Harmon magazines informs readers of the advantages of working with real estate professionals, unlike newspapers which regularly focus on the negative aspects of the industry.

If you are a real estate professional and would like to know more about these or any other Harmon services, click here to send us an e-mail. Still not sure? Click here to read What Agents Are Saying about Harmon.

Advertising and Contact Information
for Real Estate Professionals

Harmon offers a wide variety of advertising programs to fit your real estate related marketing needs whether they are local, regional or national. We offer advertising programs for Real Estate Professionals, Builders and other businesses and agencies associated with the home buying and selling process. Harmon does not accept "For Sale By Owner" advertising.

Click here to fill out an Electronic Advertising Request. It will be forwarded to a sales representative in your area who will be happy to contact you and answer any questions you may have.

For more information about a certain area, please Contact a Harmon Homes Sales Representative For Advertising Information

Don't wait another day!

Advertising in Harmon magazines is one of the most effective ways to promote your listings, your business and yourself. Try it and see for yourself. We think you'll agree you just can't duplicate the results and value of Harmon magazines.
Website: www.harmonhomes.com